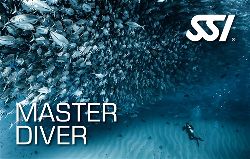 SSI's Master Diver rating is one of the most elite ratings in diving today. Divers that have completed this level have combined the knowledge, skills and experience to truly call themselves Master Divers.
To earn the certification for Master Diver, you must complete 4 specialty courses, Diver Stress & Rescue and have done a total of 50 dives.
4 Specialties + Diver Stress & Rescue + 50 Logged Dives = Master Diver
There are a variety of specialty courses to choose from:
Boat Diver
Deep Diver
Enriched Air Nitrox 40
Equipment Techniques
Navigation
Perfect Buoyancy
Search & Recovery
Shark Diver
Underwater Photography
Wreck Diver
Contact Us for more details
---
GO PRO…
And why stop here?? You are now ready to continue your journey by Going Pro!!
Click here to find out about becoming a dive professional!
PRICE
Pro Dive Price – $1,599
incl. gear hire
RRP: $1,896 excl. gear hire
Contact Us for more details