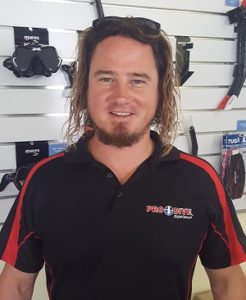 Nick 
SSI Instructor Trainer
Boat Master
CERT IV Trainer and Assessor
I started my dive journey over 20 years ago, completing my Open Water Course back home in New Zealand. Inspired by my instructor and recognizing the benefits of the SSI system I continued my training through to instructor level and enjoyed many years working all around the world in both recreational and semi-commercial roles.
The last 12 years have been spent training and developing new dive professionals through the SSI system and I now get to see them enjoying the lifestyle and experiences that becoming a dive professional brings.
As a Cert IV Trainer I am able to teach government accredited courses including Workplace First Aid, Recreational Boat and PWC Licensing, Marine Radio, Shipboard Safety, Coxswains, Master <24m and Marine Engine Driver.
---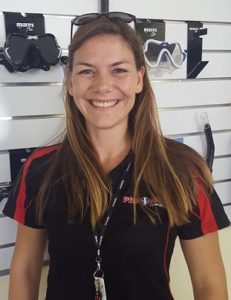 Jo 
SSI Assistant Instructor Trainer,
PADI MSDT Instructor,
CERT IV Trainer and Assessor
After getting bitten badly by the SCUBA bug I decided to quit the rat-race in London and have spent the last 12 years working as a Dive Instructor!
Since then, I have been lucky enough to work on the Great Barrier Reef, Sydney Harbour and managed dive operations in the Fiji Islands before setting up Pro Dive Magnetic Island in 2016.
Despite having completed over 2,500 dives all over the world, I am still blown away every time I visit the Great Barrier Reef!
I love everything about diving and am so grateful I get to share that passion with people from all over the world.
---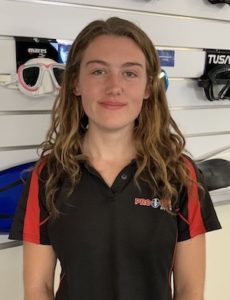 Gemma
Divemaster Instructor
I did my open water course in 2016 in Melbourne and it was on the first day of my course I realised that I wanted to do this as a job. But with the Melbourne weather being so cold I decided to move to tropical Queensland where I started an Instructor Internship with Pro Dive. Since becoming an instructor not only do I get to work in an unreal office but it has also opened up so many other opportunities like getting my commercial boat tickets.
For me every dive is just as amazing as the last even if I have been to that dive site many times before. I don't think being able to breathe underwater will ever get old!
I love seeing my students faces after diving for the first time and remembering that same feeling.
---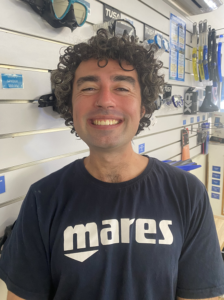 Stefan
Divemaster Trainee
Stefan's the name, and diving's the game! After working in IT for 5 years, I decided I needed a little bit more adventure in my life and decided to try my hand at SCUBA diving, and boy, let me tell you, it absolutely scratched that adventure itch!
I kept working in my IT job while diving at any opportunity I could, but I soon realised how in love with the underwater world I was. I decided to quit my job and move to a tropical island in North Queensland to dedicate my life to exploring all the gorgeous wonders the Great Barrier Reef has to offer (someone has to do it, right?).
It's a hard life having a smile this big while trying to keep your regulator in!
---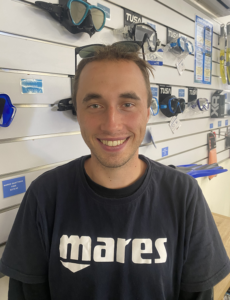 Matthew
Divemaster Trainee
Being from Sydney, I was for sure a water baby through and through. Spending a lot of time overseas making my way to Honduras to start my diving and from there I have been to Fiji and Hawaii.
I am very lucky with the opportunities I have been given and now seeing myself on magnetic island as a dive master traineeship! Looking for a career above and below the water, this for sure is the place to be, with the best office views!
---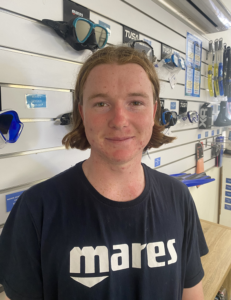 Jack
Divemaster Trainee
---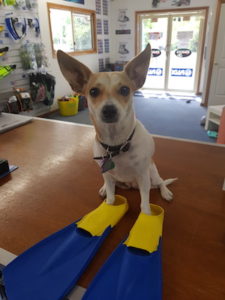 Max
'The Boss' aka 'The Doorbell'
Everyone's favourite team member.
This pup may not have the best sea legs but she will be there to welcome you at the Pro Dive store and make your experience even more memorable.