Discover a world below, and hear the reef's greatest stories. Be inspired by the Museum of Underwater Art.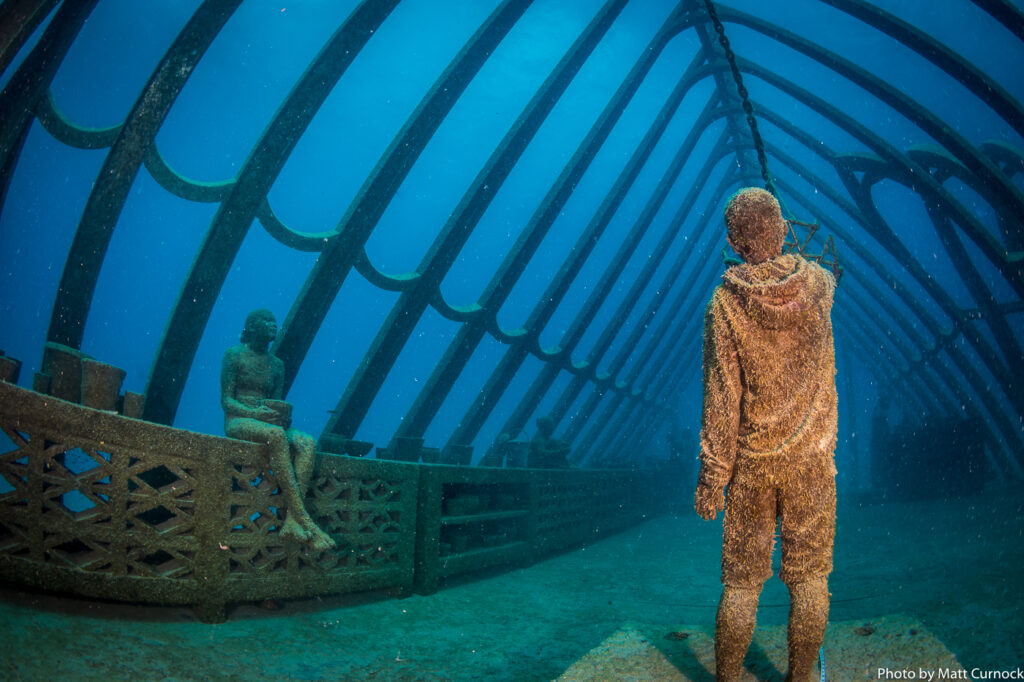 The "Coral Greenhouse" sculpture at John Brewer Reef off the coast of Townsville offers a never-to-be-forgotten underwater experience.
It features a nine-metre stainless steel greenhouse structure, designed to dissipate the ocean's undercurrents. Inside are 20 "reef guardian" sculptures of marine science students, which will grow over time with coral to attract new marine life to the Great Barrier Reef.
The museum is surrounded by the wonder of the Great Barrier Reef with turquoise water, colourful coral walls and an array of tropical marine life, making it a great site for divers and snorkelers.
Join us for a full day trip to the Museum, on our newly refurbished vessel Nautiful, where all your needs will be catered to by our professional, friendly, passionate team. We can't wait to share the MOUA experience with you.
---
Your trip includes:
Day trip to the Reef
Snorkel and dive briefings
FREE use of snorkel gear; masks, snorkels, fins and wetsuits or stinger suits
Flotation devices available – noodles
Complimentary professional guide for certified divers
Delicious packed lunch provided by a local supplier
---
What to bring:
Sunscreen
Swimwear
Towel
Hat
Light windproof jacket
Certification card/app for certified divers
Drink Bottle / reusable cup (water, hot drinks and soup available)
---
About MOUA
The awe-inspiring MOUA lays claim to being the only underwater art museum in the Southern Hemisphere, and its creator Jason deCaires Taylor was one of the first contemporary artists to use the underwater realm as an exhibition space. After exploring themes of conservation with his underwater art at MUSA in Mexico and Museo Atlantico in Spain, it's only fitting he then set his sights on arguably the world's most famous underwater environment: the Great Barrier Reef.
Not just a world-first stunning art installation and must-do tourist attraction, MOUA is a new habitat for marine creatures, and even a marine laboratory. Water salinity, pH and oxygen levels are monitored, and an underwater camera captures the development of the corals. Scientists, marine students and tourists will all have the opportunity to learn more about the reef and its wonders.
As well as the conservation element, the museum is about preserving history through installations inspired by the local community, their stories of the reef, and the culture of its First Nations people.
---
Advice for Diving and Snorkeling
Snorkeling and Scuba Diving can be strenuous activities. If you are concerned about your fitness, swimming ability or have a medical conditions please inform our friendly crew.
*Some medical conditions may prevent you from diving or will require a Doctor's certificate (organised prior to your trip). You'll be required to complete a medical statement and sign a Legal Waiver Release & Indemnity Deed prior to boarding the vessel.
Click here to view our medical questionnaire.
You will not be able to fly or ascend over 300m for 24 hours after your final dive.