HLTAID006 Advanced First Aid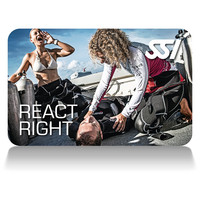 Here at Prodive Magnetic Island we offer VET Nationally Accredited First Aid Training for individuals, groups and businesses.
During the course you will gain the skills and knowledge required to provide an advanced first aid response, including management of the incident, casualties, by-standers and other first aiders, until the arrival of medical or other assistance.
---
Topics include:
Primary Assessment
First Aid & CPR Skills
Primary Stabilization Techniques
Automated External Defibrilation Basics
Secondary Assessment
Oxygen Administration in Diving Emergencies (Optional)
---
Who is this course suitable for?:
Businesses or staff members who are required to provide an emergency first aid response in a workplace.
Divers and Dive Professionals
Anyone who wants to be prepared in the case of sudden illness or injury
---
Pre-requisites:
You must be physically capable of performing uninterrupted CPR for at least 2 minutes on a CPR adult manikin placed on the floor and on a CPR baby manikin placed on a firm surface.
You will need a USI (Unique Student Identifier) number.  If you do not have this you can register for one here – www.usi.gov.au.
There is online training that must be completed in advance of the course.  Click here to register for your online training.
---
Duration:
The online training component takes approx. 3 – 5 hours.
After you have completed your online training and exam, you will attend a half-day or evening session at Pro Dive Magnetic Island to complete the practical exercises.
---
Assessment:
Students will be assessed through the demonstration of practical skills, participation in role plays, analysis of case studies and a written quiz.
---
Award issued:
Students who successfully complete this nationally recognised training will be awarded the  SSI React Right certification and a statement of attainment HLTAID006 Provide Advanced First Aid
---
Validity:
It is recommended this unit be renewed every 3 years in line with industry standards, with the CPR component being updated every 12 months.