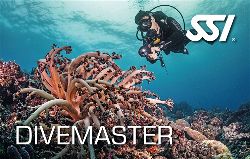 Become a Divemaster with Pro Dive Magnetic Island. We are renowned in the industry for producing high quality dive professionals through our personalised programs, tailor-made for each individual to provide them not only with the best training but also real-world experience.
As a Divemaster you will be certified to supervise recreational diving activities, lead certified divers on boat and shore dives and assist Instructors on dive courses.
As a qualified Divemaster you can also proceed to Assistant Instructor and Instructor level training.
QUALIFICATION
After passing the Dive Master course you may do the following:
Give underwater tours to certified divers.
Teach Snorkelling after having passed the Snorkelling Instructor module and issue Snorkel Diver certifications
Act as a certified assistant for all SSI recreational courses
Enroll in an SSI Dive Control Specialist program
WHAT'S INCLUDED
SSI Online Training or PADI Course Materials
Personalised & tailored program to YOUR needs, learning ability and time frame
Dedicated program coordinator
Free Diving for Term of Traineeship
Internationally Recognised Certification
'Real world' Training – gain valuable hands on experience
PREREQUISITES
Minimum age 18 years old
Advanced Open Water certification or equivalent
Hold a Stress and Rescue certification or equivalent
Logged a total of at least 40 open water dives
Complete the watermanship evaluation
Valid 1st Aid and Oxygen Administrator Certificate (within the last 24 months)
EXCLUSIONS
SSI or PADI Professional Membership Payment
Queensland dive medical. This is required once every 12 months to stay current as a dive professional
Gear hire – All Dive Professionals must own a Total Diving System of professional type and quality. Pro Dive offers discounted packages to all it's Dive Professional trainees.
Contact Us for further information